1) Waking up and immediately inspecting your face for any new pimples.
bhagwaan ka diya hua sab kuch hai, dolat hai, shohrat hai, bus clear skin nai hai. Pimples and red spots and whatnot can sense important upcoming events…and they tend to be one of those bin bulaye mehmaan. Smh.
2) Getting hit by that first wave of the smell of blood.
(Accompanied by Qasai and dhair saara gosht hi gosht).  sprays air-freshener at every possible corner and inch of the house until it hurts to breathe
3) The dreaded mission to hand out gosht door to door.
The mission doesn't end after leaping over the mini neher of blood, it is further continued by trying to convince your paroosi that you're not a beggar here for meat, but a person giving out gosht. tch tch tch.
4) The Eye-Liner Tragedy.

Right Eye: 5 A*, medical student, sughar beti, desi dream girl, makes perfect gol rotis.
Left Eye: Maa baap ki disappointing aulaad.
In the process of trying to fix your left eye, overlining your right one to make it "even", and accomplishing the perfect Panda Look. cries in Urdu
5) The Realization.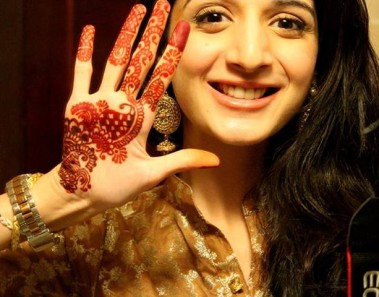 Now that you're all tayar shayyar, looking like an absolute haseena and meeting a few people, the realization and of not having any other Eidi stuff to do for another 5 to 6 hours sinks in…
6) The Reunion of Best-Friends.

..and so you flop down like a vegetable onto your bed and waste away your life like you do for the rest of the 365 days.
But all of this aside, Eid is one of the most beautiful days for us Muslims around the globe through which we connect, and it is made beautiful by our Deen, and despite everything, we love and cherish it, and go back to waiting for it to come around again next year.
Eid Mubarak to each and every one of you!